Doubtful Sound Kayak – full day guided tour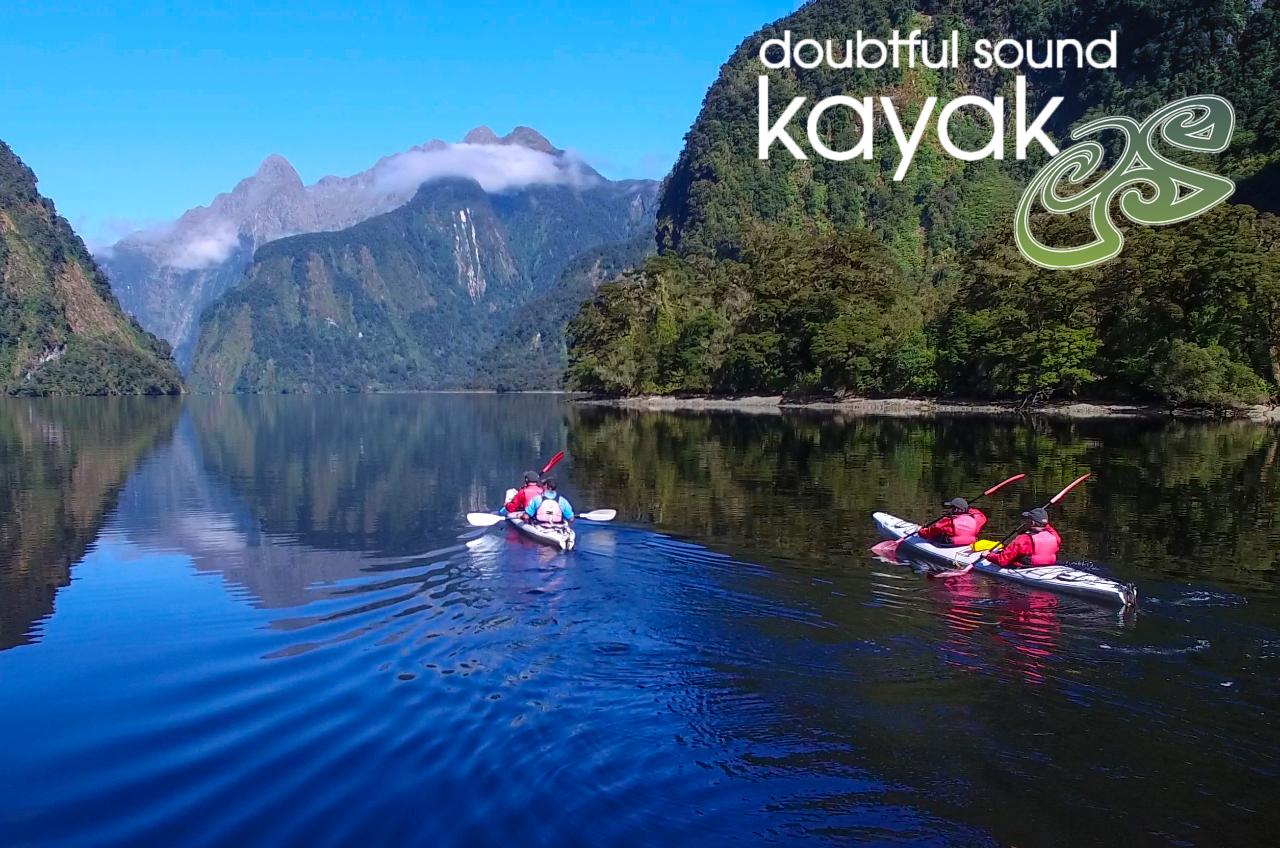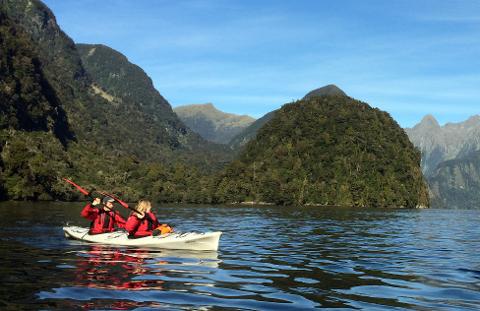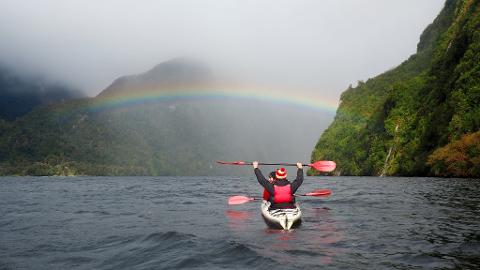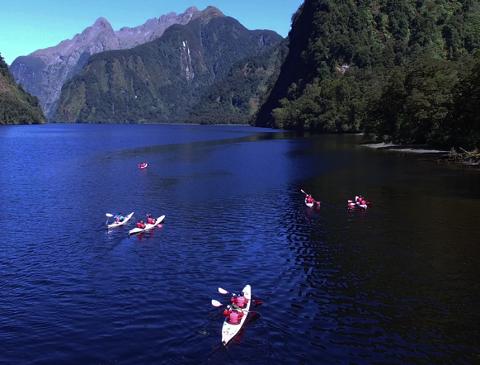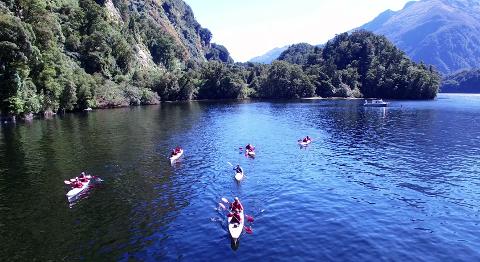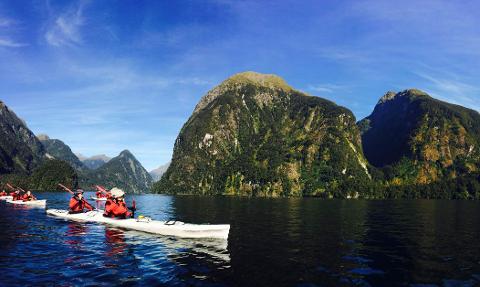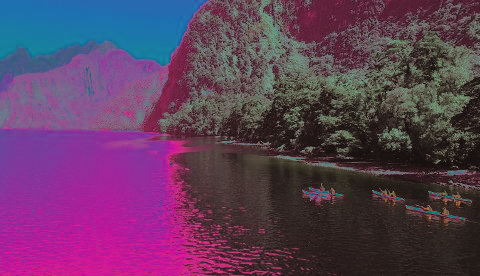 Duration: 10 Hours (approx.)
Location: Te Anau, Fiordland
Product code: PB65SS
Your Doubtful Sound Kayak adventure is the longest kayaking day tour of Doubtful Sound. During your 4 hour paddle you will journey up to 15km* into Doubtful Sound following Hall Arm, "The Sound of Silence".
We are a local company showing Doubtful Sound to 10 guests per adventure. This ensures a personal experience is provided by your Kayak Nature Guide.
Meet us in Te Anau or Manapouri. Car parking is available in Te Anau at our office. Your Doubtful Sound Journey includes a coach from Te Anau, relaxing cruise on Lake Manapouri and transport over spectacular Wilmot Pass into Deep Cove.
Launch your kayak into Doubtful Sound at Deep Cove. Wildlife encounters may include Dolphins, Seals or Penguins. Your return to Deep Cove is via Water Taxi Cruise
Key Points of Difference:
Kayak on Doubtful Sound + Water Taxi return Cruise on Doubtful Sound
Small local company offering the longest day tour of Doubtful Sound by Kayak (and water taxi)
Tour includes Doubtful Sound's Hall Arm, famously referred to as "the sound of silence"
Water Taxi cruise from the end of the tour back to Deep Cove (Doubtful Sound)
At least 4 hours Kayaking plus a Cruise on Doubtful Sound
Cruise on Lake Manapouri
Transport from Te Anau included
Full briefings are given - this trip is suitable for beginners, novice and experienced kayakers alike.
Tour reporting time in Te Anau is at 6.30am; parking is available at our office for the day. We then transfer you to Pearl Harbour, Manapouri with our mini coach to the awaiting vessel.
Your journey is packed with adventure and scenery all the way.
Start with a 30 km cruise across Lake Manapouri to West Arm at the head of the lake. Lake Manapouri is a very beautiful lake with its many wooded islands, coves, sandy beaches and mountainous surround.
Stopover at the informative West Arm Visitor Centre to change into wetsuits before traveling 22 km by coach over the Wilmot Pass Road. Stops along the way allow you to take in the many spectacular views including a view of the Sound (weather permitting) 670 mts above sea level before descending to Deep Cove. Once at Deep Cove, it is time to paddle Doubtful Sound.
Clean paddling and safety gear is supplied and includes: long john wet suits, paddle-jackets, polypropylene clothing, hats, pogies, life-vests, spray skirts and camera bags.
Paddle in modern, stable double sea- kayaks all fully equipped with steering rudders. Before you set out on the water, comprehensive safety and paddling briefings are provided (support is ongoing from the guides throughout the tour). Information and interpretation on local history, flora, and fauna is provided throughout the day.
As you paddle this remote fiord you will enjoy and experience awesome views of towering mountains and ice carved valleys with rain-forests clinging precariously on the steep sides. Waterfalls tumble down over the mountainsides (even more dramatic after or during heavy rain!).
'Listen' to the 'sounds of silence' and nature as you paddle in this landscape created by ice of many ages gone by.
Under towering Commander Peak, at the entrance to Hall Arm take time out for a lunch break (note; lunch is not provided – please bring food that can be eaten easily) with a complimentary cuppa. Feel the ever changing atmosphere and surroundings permeate into your being – take time to gather your thoughts and reflect on what really matters in life…
After refreshments continue your paddle into Hall Arm – the most sheltered scenic and safe part of the fiord to continue your kayaking adventure. Explore the sheltered coves and shorelines – get really close to Nature. Your paddling adventure concludes deep in Hall Arm in solitude with awesome views of Mt. Danae towering to 1500 metres above you. Enjoy magnificent views of the valley beyond.
Explore a spectacular landscape created by ice of many ages gone by – at water level it is an overwhelming experience!!!
At approximately 2.45 pm, our vessel will pick you up from the end of your paddle and begin the return cruise back to Deep Cove. Time to leave this land that time forgot and that we have been privileged to visit and return back across the pass for the relaxing return cruise back down the lake to civilization at Manapouri.
Return time back to Pearl Harbour, Manapouri is 5.15 pm and Te Anau 5.30pm.
We cater for small groups (no more than 10 people) providing a personal experience with many personal comforts. Your friendly skipper/host and kayak guide will ensure that you have a safe, enjoyable experience that you will treasure for a lifetime.
Note regarding weather: Route may vary due to conditions at the time of the tour. Fiordland is a very high rainfall area – we seldom cancel tours due to rain – the rainy days are the some of the most spectacular with mountain mist and a profusion of waterfalls everywhere. Our main concern regarding the weather is strong wind forecasts for the coastal area that can on occasion cause cancellation of tours.
** Important notes**
As the kayak cockpit is a fixed size, to ensure "fit" into our kayaks we must impose a weight limit of 115kg. HOWEVER Kayakers who are wider at the hips or who have long legs please call and speak with us to discuss if it will be practical to fit into a kayak.
Children 14 years minimum age - children must have kayaked some distance before. Each child must be traveling with a strong adult (as they will be in a double kayak with parent) and be at least 1.4 metres plus tall and plus at least 45 kg in weight.
What to bring on your Doubtful Sound Kayak and Cruise;
To ensure maximum comfort, memories and enjoyment of your Doubtful Sound Kayak we recommend that you bring the following items to Doubtful Sound:
A packed lunch & a water bottle or drink to take on the kayak with you
Sunblock, sunglasses, sunhat

Insect repellent

Camera plus extra film and or spare memory card, spare batteries

Raincoat plus warm jacket/fleece

Swimwear (for under the wetsuit)

Towel

Spare soft shoes & warm socks

In a small day pack or small carry bag
Note: please come prepared for both wet/cold and fine weather as conditions can be changeable throughout the day. Large tramping packs are not suitable to bring on the tour as storage space is limited but we can store luggage items for you at our office.
Once you leave Manapouri and board the boat there is no opportunity to visit a shop to purchase items – please have everything with you that you need for the tour as we will leave shops behind for the duration of the tour!
Our office is located at Te Anau Lakeview Holiday Park, 77 Manapouri-Te Anau Road, Te Anau
For accommodation bookings please visit http://www.TeAnauHolidayPark.co.nz or phone (+64) 3 249 7457 or 0800 483 262

If you choose to stay at Te Anau Lakeview Holiday Park prior to your kayaking trip, when you call the Holiday Park to book please advise them that you are kayaking Doubtful Sound with Doubtful Sound Kayaks.